🔍OVERVIEW
✔️ A non-sticky, lightweight moisture replenishing emulsion
✔️ Milky texture Moisturizer
✔️ Infused with 5 different forms of hyaluronic acid
✔️ It contains the anti-sebum complex
✔️ Control excess dead skin cells
✔️ Recommended for sensitive skin
🤝 Maccaron is Authorized seller of Real Barrier
Real Barrier IG Official : https://www.instagram.com/realbarrier/
Real Barrier Control-T Moisturizer is a non-sticky, lightweight moisture replenishing emulsion that helps balance oil and water all day. This milky moisturizer is quickly absorbed and leaves skin feeling non-greasy and hydrated.
It contains the anti-sebum complex of evening primrose flower extract, kudzu root extract, pine leaf extract, ulmus and clover flower extract. These all work together to control sebum production and act as antioxidant and anti-bacterial agents. It also helps soothe and calm with a refreshing complex of calendula, witch hazel leaf water and tea tree extract which all work to calm and quiet irritated skin and protect against environmental stresses.
Infused with 5 different forms of hyaluronic acid ( hyaluronic acid, hydrolyzed glycosaminoglycans, sodium hyaluronate crosspolymer, sodium hyaluronate and hydrolyzed hyaluronic acid). These 5 ingredients are included in the formula at varying amounts and each has its'own function, all of which aid in the delivery of moisture to the various layers of the skin. It is recommended for skin with large pores and excess oil production and that also has a tendency to break out.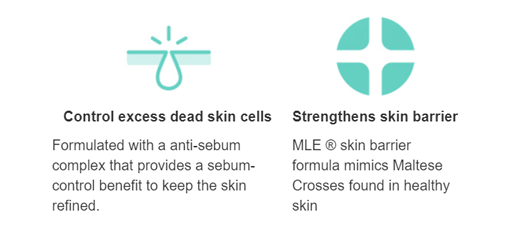 Control excess dead skin cells: Formulated with a anti-sebum complex that provides a sebum-control benefit to keep the skin refined.
Strengthens skin barrier: MLE skin barrier formula mimics Maltese Crosses found in healthy skin.
Balancing oil and water level: Blended with low-molecular hyaluronic acids that restore moisture effectively and Zinc PCA that helps skin-softening.
Non-greasy: Its milky texture formulated with 5 different hyaluronic acids is easily absorbed into the skin and keeps it skin non-greasy.
🇰🇷 Made in Korea
See More Real Barrier products? Click HERE
Check out Real Barrier Brand Story Click HERE!